Select Chinese text with your mouse. Written Chinese Reader reads the words aloud and explains what it means. Mandarin Chinese or Cantonese. Understand text with the popup window. Works with popular browsers, Microsoft Office and PDF files.
Scan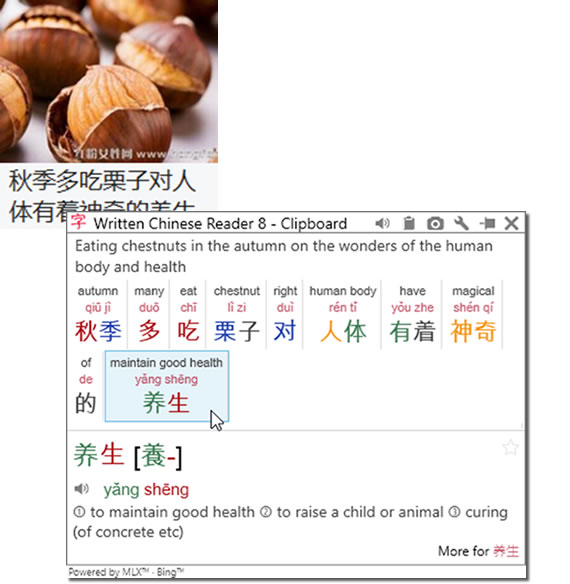 Written Chinese Reader works with the broadest range of applications and websites using one or more these scan modes:
LiveScan - point to begin understanding Chinese, one word at a time
HighlightScan - highlight a range of Chinese text. With AutoPronounce™ and MLX Auto-translation™, you'll quickly see a simple overview of the selected text. Point to individual words to gain deeper insights
ClipboardScan - highlight and copy Chinese text from all well-behaved applications (uses Ctrl+C to copy text). Enhanced ClipboardScan even works with highly-formatted PDF documents and vertical Chinese text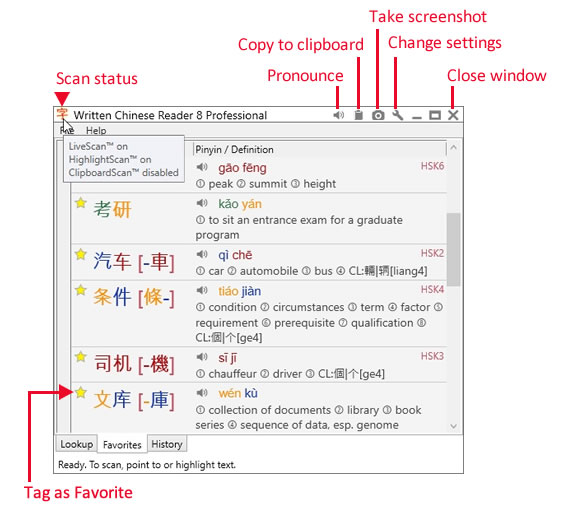 Each window provides a toolbar for quick access to common functions:
Scan status: hover over icon to see status; right-click to change
Pronounce: read words aloud
Copy to clipboard: copy and paste into Word or Excel as a formatted entry (study sheet)
Take screenshot: save as a graphic file (JPEG, BMP, GIF, PNG, TIFF)
Change settings: personalize Written Chinese Reader
Close window: closes only this window; the program remains active
Favorite: tag entry as Favorite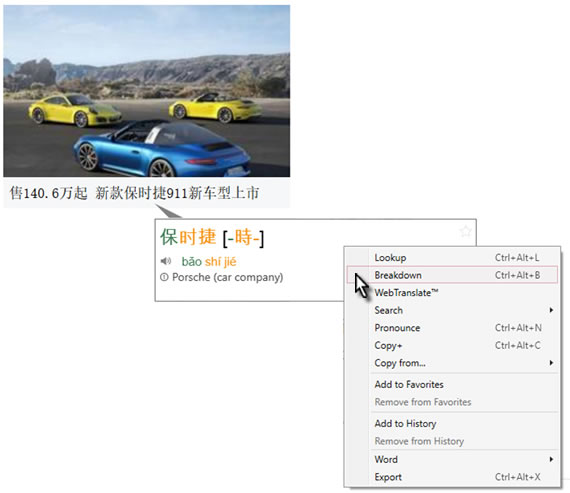 Everyone learns Chinese differently. Written Chinese Reader invites you to right-click and explore the subtle beauty and historical depth of the Chinese culture.
Lookup: find related words
Breakdown: see components of compound words
WebTranslate: use Google and Microsoft web services to translate text (ad-supported)
Search: find news, videos, images, music, etc. from popular Chinese websites
Pronounce: hear words read aloud in Mandarin Chinese (optional Cantonese)
Copy+: create a studysheet using selected words and pasting into Microsoft Word or Excel
Copy from...: copy only the selected Chinese text, phonetics (Pinyin, Bopomofo) or definition
Add/Remove to/from Favorites: tag word as a Favorite
Add/Remove to/from History: log word into History list*
Word: add/edit definition of selected Chinese words*
Export: save Chinese text, definitions and pronunciations into Anki flashcard or other format
*Some settings are available only on Professional and Ultimate Editions.