Imagine suddenly having the gift of understanding and speaking Chinese. Which websites would you visit? Who would you want to chat with--in Chinese? Start understanding news headlines, emails and documents as easily as reading English. It's all possible with the Written Chinese Reader.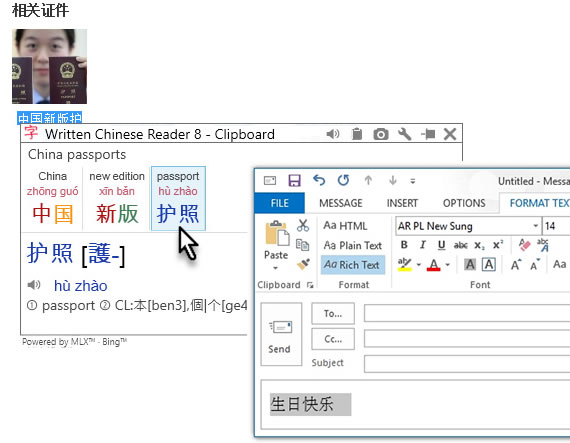 Operating Systems and Apps
Microsoft Windows 10
Microsoft Windows 8 (desktop mode, X86)
Microsoft Windows 7 (x86, x64)
Microsoft Windows Vista (x86, x64)

Microsoft Input Method Editor (IME)
Microsoft IME Pad with Hand Writing (CH)
Microsoft Windows 7/Vista: Windows Explorer, Task Manager, etc.
Chinese Reader is performance-tuned to take advantage of 64-bit operating systems (Windows 8 64-bit) and multicore, multi-threaded processors (Intel Core i3, i5, i7; AMD A-Series and Phenom/Athlon).
Web Browsers
Microsoft Internet Explorer 9
Microsoft Internet Explorer 10 on Windows 7 or Windows 8 (desktop)
Mozilla Firefox 25
Google Chrome 32
Some web browsers are constantly being updated. See support FAQs for Firefox and Chrome.
Productivity Applications
Adobe Acrobat Pro 9, XI
Adobe Reader X, XI
Microsoft Office 2010, 2007
Microsoft Office Web with SkyDrive
Microsoft Word 2013
Microsoft Word 2010, 2007
Microsoft Excel 2013**
Microsoft Excel 2010, 2007
Microsoft PowerPoint 2013**
Microsoft PowerPoint 2010, 2007
Microsoft Access 2010, 2007
Nitro PDF Reader 3
OpenOffice 3.3
** With ClipboardScan or HighlightScan